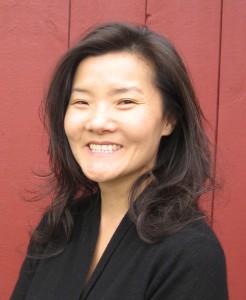 Fellow Angela Park was featured in an Audubon Magazine article, Facing the Future, by Barry Yeoman. The article's header is: "While environmental groups often work toward preserving biodiversity in ecosystems, many are now grappling with trying to figure out how to diversify their own ranks." Her interview for the article is articulate and powerful, making the case for diversity in the environmental field.
The article quotes her as saying:
Boards of directors fare no better: A 2002 survey of 61 environmental groups found just 127 people of color among their 1,324 board members. The past nine years have brought little improvement, says Angela Park, founder of Diversity Matters, a nonprofit that works with environmental group (listen to an interview with Park here). "So many of the boards are still fundraising boards," she says. "There's a notion of give or get: give from your pockets or get from your network. It's a ballpark in which many people can't play." What's tragic, Park adds, is that boards can potentially drive their organizations' diversity efforts. "If a board is supposed to give guidance," she says, "you miss a lot if you don't have a richer mix."
Later, she talks about an organization on the right track:
During my interviews, I asked for examples of organizations that were grappling earnestly with racial and ethnic inclusion. Two diversity consultants recommended The Trustees of Reservations, a Massachusetts organization that manages 60,000 acres of "special places" with ecological and historical value. Founded in 1891, The Trustees have deep roots in New England blueblood society. "We're talking about a group that has an incredibly significant culture shift to make," says Angela Park, who counts The Trustees among her clients. Even today, out of 192 year-round employees, only 13 are people of color. "But they have made this a huge priority. They have a roadmap"—a 16-point plan to meet five specific diversity goals—"that is far beyond what I have seen in any conservation organization in this country."

…For The Trustees to succeed, they needed to examine their own internal culture—an unsexy and sometimes painful process—and make enduring changes. "This thing has got to be hard-wired before I leave," Kendall says. For help, they turned to Angela Park of Diversity Matters.

Park conducted a thorough assessment of the Trustees starting in 2009. "It wasn't pretty," says executive vice president Kathy Abbott. Trustees employees described the organization as "stodgy, white, wealthy" with "norms that make it hard to be different," Park's report said. Staffers cited obstacles ranging from outright "stereotyping" to the inaccessibility of the offices to public transportation.

As brutal as Park's assessment was, it helped crack open a conversation The Trustees needed to have. "We had a culture of not talking about things," says Abbott. "It's kind of a white WASP-y thing. You just don't talk about the tough stuff." Much of the initial dialogue with Park took place within the Trustees' Inclusion and Diversity Council, which is made up of both employees and volunteer leaders. As those conversations have expanded beyond the Council, they've ferreted out hidden biases. One field staffer admitted to profiling visitors at The Trustees properties and lavishing attention on those who looked like they could afford membership dues. "It made me wince, but it's what we need to get at," says Sarah Bursky, The Trustees' engagement program manager.
Thanks, Angela, for your unwavering commitment to creating space for these essential discussions on diversity and the necessary steps for greater inclusion!
Tags: capacity building, diversity, race