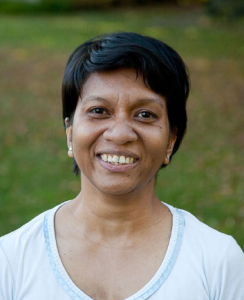 Maria Latumahina, Civil Society and Forest Advocate
Jayapura, Papua, Indonesia
Maria's vision is that, by the end of the century, no tree in West Papua, Indonesia be cut without a replacement being planted. Through her previous work as founder and director of the Papua Civil Society Support Foundation and presently as consultant to the Climate Change Unit of the United Kingdom's Department for International Development (DFID), Maria has made strides toward this goal.
Together with Fellow Any Sulistyowati, Maria has run a series of systems thinking and leadership trainings for the middle management of the Papuan Government. Embedding systems analysis, it is through this process that she has secured their commitment, in an economy heavily dependent on timber exports, to reduce the rate of deforestation by 25% by 2100.
This, however, is not enough for Maria. She wants the forests of her native Papua to be sustainably managed, while improving local livelihoods. Toward this end, Maria is dedicated to advancing multi-stakeholder dialogue focused on the sustainable management of the tremendous natural resources found in Papua while improving the quality of life for the citizens of Indonesia's poorest province. Although the Papuan culture reflects their close relationship with the environment and natural resources, the individual citizen is not the only member at the decision table. Maria and her colleagues strive to bring government, private sector, parliament, community, and military together to discuss and develop parameters for a definition of sustainable and equitable environmental and natural resource management.
Reflecting on the importance of the Fellows Network, Maria says:
Feeling part of a wider sustainability movement has brought meaning to both my personal and professional life.
She has participated in every annual workshop that we have offered, drawing courage and inspiration from Fellows in the safe environment we create. She reports with gratitude that she feels fully comfortable in no other place, sharing her challenges, doubts, and aspirations freely within the Fellows Network.
Tags: climate change, economy, forestry, indonesia, systems