In addition to her full time job in Helena, Montana coordinating national-level sustainable operations for the US Forest Service, Fellow Anna Jones-Crabtree and her husband Doug Crabtree farm. They are deep into their fourth season, working weekends far to the north near the Canadian border from March through November. Neither a small-scale farm nor a huge commercial endeavor, they seek to demonstrate how a medium-sized, organic farm of 1,280 acres can be an inspiring example of land stewardship and an essential component of a sustainable food system. Anna and Doug think of their farm as "working lands" and they are already covering their own costs.
Luckily this spring was wet, as the area had lived up to its dry land reputation through the summer of 2011. The lack of snow cover by mid-winter, however, was unusual, an indication of instability in the climate. All the same, the native pollinator strips they had seeded earlier are thriving and include maximillion sunflower, prairie coneflower, and yarrow. Anna reports that
Standing in a blooming field of safflower or flax, hearing an undertone buzz is a marvelous experience. Pollinators are a critical and mostly unrecognized part of our food system.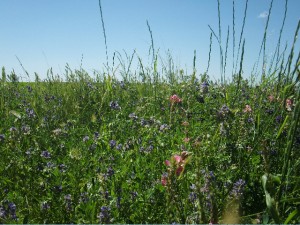 Anna and Doug grew thirteen crops at Vilicus Farms in 2011, and 15 this year, including emmer farro, rye, black beluga lentils, and golden flax, all certified organic. You can purchase these online from Timeless Seeds. If you have a strong business background, Timeless Seeds is currently looking for a volunteer Board member. Contact Anna, below, if you are interested.
In an effort to move away from fossil fuels and be self-reliant, the safflower crop is going to be made into biodiesel for the tractors as part of a project with Montana State University Northern.
Anna and Doug are seriously exploring land expansion and invite you to be an investor. In their county alone there are approximately 45,000 acres potentially coming out of the Conservation Reserve Program (CRP) over the next several years. These lands can generally be certified for organic production, without the three-year transition required for other cropland. Anna explains:
We need another couple of 640-acre sections to make the farm a viable full-time endeavor and allow us to cut back on our day jobs. We'd like to find ways to support other beginning farmers in setting up their own land stewardship oriented farms. As this land comes out of the CRP program its likely to be another addition to the monoculture, input dependent systems that aren't going to sustain us into the future. Doug and I feel strongly we need a different model. If any of you are interested in a farmland investment, contact us to discuss the opportunities to join our emerging land investment company. Help us make a difference and earn better returns than from the stock market! We'd love to find multiple people who are willing to invest in a more sustainable food system, based on an ethic of land stewardship first.
If you have knowledge of land investment and combining multiple small investments, Anna encourages you to contact her.
You can also book a "Farm Camp" weekend from April-October. The Camp is a great way to learn about the Farm's stewardship efforts, work long hours under the big sky, and eat good food in good company. And you'll be in one of the least populated places on the planet. Book your Farm Camp dates now as they fill up fast!
Learn more about Anna and call or e-mail her: (406) 459-9944, Vilicus_Farms [at] bresnan.net.
Enjoy these additional photos from Vilicus Farms at different times of year: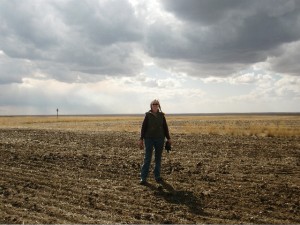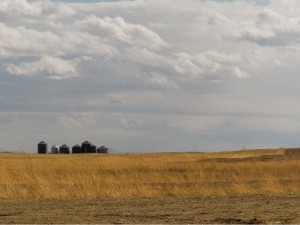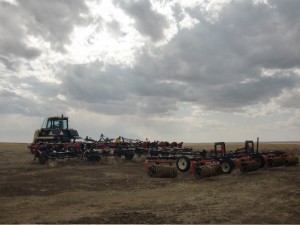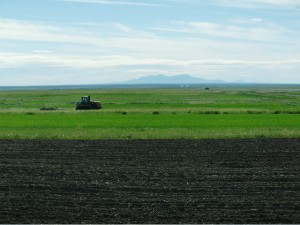 Tags: agriculture, business, midwest, stewardship