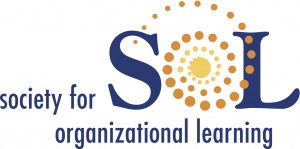 Sustainability Leaders Network is pleased to share with you the following leadership workshops from our partner, the Society for Organizational Learning (SoL). Please click on the links below for more information or to download registration forms. See a short video of Peter Senge, Founding Chair of SoL, speaking about these programs.
Executive Champions' Workshop, August 14-17, 2012, Stowe, VT, with Peter Senge, Otto Scharmer,
and Arawana Hiyashi
The Executive Champions' Workshop (ECW) is a special setting for nurturing new thinking and relationships among executive and change leaders in today's rapidly changing economic and social landscape. This workshop is offered exclusively to people at the top levels in their organizations and focuses this year on "Sustaining Systemic Innovation in a Time of Disruption." Through a series of strategic dialogues on issues of most concern to participants, our intent is to tap the wisdom that resides, often below the surface, in our collective experience.
Foundations for Leadership Program, September 12-14, 2012, Bedford, MA, facilitated by Peter Senge and Beth Jandernoa; also offered March 19-21, 2013, Bedford, MA, facilitated by Peter Senge and Robert Hanig
In this program, based on The Fifth Discipline, participants will come away with a renewed understanding of how they can facilitate change, both within their organizations and in their personal lives. This program goes deeply into the domains of personal mastery, collaborative inquiry, and the systems perspective applied to sustaining profound change.
In particular, participants will learn to:
Formulate a coherent picture of the results they most desire to create individually and collectively alongside a realistic assessment of the current state of their lives today.
Understand how underlying systemic structures shape behavior and how to recognize and shift those structures.
Expand their capacity to make strategic choices.
Be more able to nurture mutual purpose and shared commitment.
Explore underlying beliefs and assumptions and their impact on the capacity to lead.
Balance and integrate intuition and rational understanding.
Facilitate conversations that promote learning and collaboration.
Operate from a deeper and more stable sense of purpose.
The session includes interactive lectures, paired and small-group exercises, a simulation game, large-group dialogue, and regular opportunities for personal reflection. Participants discover the profound connections between personal mastery and systems thinking, seeing that deep change in our social systems and in oneself are inseparable from each other.
Leading and Learning for Sustainability Program, November 7-9, 2012, Bedford, MA with Peter Senge, Joe Laur, and Darcy Winslow
This workshop is for those who are passionate about building more sustainable organizations, value chains, industries, and communities. Peter Senge and leading practitioners of sustainability and organizational change will guide participants in how to create flexible and robust networks of collaboration that will sustain innovation in times of financial stress and in the face of pressures to revert to established business models. It is a synthesis of core organizational learning disciplines—systems thinking, mental models and collaborative inquiry, personal mastery and building shared vision—and the practical know-how developed within the SoL Sustainability Consortium over the past decade, much of which is captured in the book, The Necessary Revolution. This workshop focuses on how these core learning disciplines build capabilities for Sustainability Leadership—seeing systems, collaborating across boundaries with ease, and shifting from reactive problem solving to creating new futures as well as how to understand the basic systems that shape the modern economy and practical insights into shifting these systems.
In this interactive workshop, participants have the opportunity to work on concrete challenges around social and environmental sustainability. In particular, we encourage cross-sector teams to attend, as the workshop provides a safe, human-centered space that allows for the kind of reflective, collective focus in which breakthrough results are achieved.
About the Society for Organizational Learning
SoL is a not-for-profit intentional learning community composed of organizations, individuals, and local communities around the world devoted to the interdependent development of people and their institutions in service of inspired performance and meaningful results. We offer programs and courses, consulting and coaching services and publish Reflections: The SoL Journal. Peter Senge, author of The Fifth Discipline and The Necessary Revolution, is Founding Chair of SoL.
Tags: capacity building, leadership