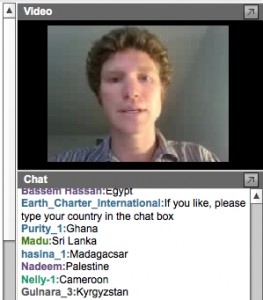 SLN Core Team member, Dominic Stucker, was invited by Earth Charter International and Youth Action for Change to design and lead a session on "Visioning and Systems Thinking for Local Sustainability Projects" as part of the semester-long, online course Youth Leadership, Sustainability, and Ethics.  The 1.5-hour session was held on 23 October and attended by 15 young leaders from around the world, including Botswana, Cameroon, Costa Rica, Egypt, Germany, Ghana, Kyrgyzstan, Madagascar, Palestine, Sri Lanka, and the United States.
From approximately minute 00:58 to 2:24, view the recording of the session here. The Guided Visioning starts around 1:18 and the short discussion on Systems Thinking Wisdom around 2:01. Note that a portion of the recording is silent while pairs are in break-out rooms.
Dominic introduced the Learning Spiral as a framework within which to situate the practice of visioning and design principle from systems thinking for local sustainability projects.  He led a guided visioning that asked participants to imagine their planned project was wildly successful, giving them an opportunity immediately afterwards to write down what they saw, what changes they had helped bring about in their own communities.  In pairs, participants then shared their visions and drafted 1-sentence descriptions, which were shared with the whole group.  Some examples include:
Young girls in my community meet their inner potential and believe in their ability to own personal visions.

A platform for farmers to join efforts and overcome their challenges.

People celebrate their differences, leverage them, and use them to create a peaceful global environment.

University students use free-thinking, humor, and energy to to design and create sustainable futures for Botswana and the world!

Men and women – who have engaged with global issues as young leaders – make responsible decisions as future professionals and take action toward creating a better world.

A strongly interconnected society pioneered by youth.

Young people are empowered and capable of making positive change in their communities.
After that, Dominic used the rubber band metaphor to emphasize both the importance of vision and systems analysis in changing current realities.  Instead of dropping our visions to the reality, we must identify leverage points for bringing the reality up to our visions.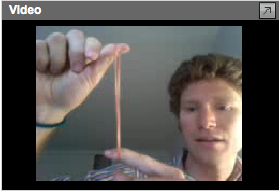 To help identify such leverage points, Dominic highlighted some of the guidance that Donella Meadows offers in her article Dancing with Systems for navigating and changing complex systems.  In particular, he described and then asked participants how the following forms of guidance would apply to their own projects:
Celebrate complexity
Listen to the wisdom of the system
Expand time horizons
Expand thought horizons
Expand the boundary of caring
Finally, returning to the Learning Spiral, Dominic emphasized the importance of humility in our work to change systems.  In the above article, a key piece of guidance is to "Stay humble. Stay a learner." Donella Meadows writes:
Systems thinking has taught me to trust my intuition more and my figuring-out rationality less, to lean on both as much as I can, but still to be prepared for surprises. Working with systems, on the computer, in nature, among people, in organizations, constantly reminds me of how incomplete my mental models are, how complex the world is, and how much I don't know. The thing to do, when you don't know, is not to bluff and not to freeze, but to learn.
None of us, after all, have fully seen or experienced the world we envision for ourselves.  We have only seen glimpses.  As such, we must learn our way into sustainability together, embracing mistakes as an essential part of experimentation, creativity, and innovation.
At the beginning of the session, participants indicated that they "always, often, sometimes, or rarely" use visioning and systems thinking in the conceptualization and design of their projects.  By the end of the session, 100% of participants reported that they will "always or often" use both visioning and systems thinking for future projects.
Unsolicited feedback from participants at the end of the session included:
Thanks, Dominic! Inspiring!

Gave me a way to rethink my project. Love the meditation part!

Very interesting and useful.

Inspiring and motivating!

Great session!
Sustainability Leader Network offers similar visioning and systems sessions as a service to individuals and organizations.  Learn more on our Services page.
Tags: capacity building, systems, vision, youth