By Taylor Knoop, Sustainability Leaders Network
Fellows have been active this summer in engaging younger generations as interns, providing a way for the sustainability community to expand and strengthen.
Fellow Anna Jones-Crabtree and her husband, Doug, own and run Vilicus Farms, a 1,280 acre organic operation in Havre, Montana. They have welcomed Nathan, a 21 year old from Ohio, and his girlfriend D'Anna, a 23 year old from Lousiana, as apprentices on their farm team.
Despite no family backgrounds in farming, Nate and D'Anna have been seeking out agricultural experiences for several years. Choosing to skip the more traditional college path, Nate interned with three farms across the country. The two met at an organic farm in Alexandria, Louisiana. Instead of a small scale farm, Nate and D'Anna hope to "own a more large scale organic farm one day because it can be more profitable."  They also feel that "there should be more organic options in our food system, such as grocery stores, farmers markets, and Community Supported Agriculture (CSA)."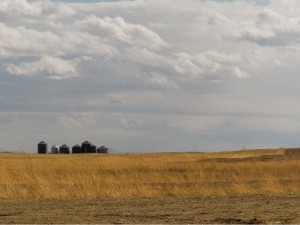 Vilicius Farms is proving to be the perfect school to gain the tools and knowledge for such a goal. D'Anna was quick to note that "organic is just a basic definition of what Vilicus Farm is about. Biological diversity is highly valued and priority practices include soil/water conservation, shallow/minimum till, diverse crop rotation, pollinator friendly planting, and cover cropping/green manure application." Beyond the many sustainable practices that Vilicus Farms employs, the curriculum includes exposure to using various pieces of big farm equipment, shopping for seeds, sampling soil and completing office work. Attention to detail, especially use of the right tools, was something both thought important.
With no marked exams, D'Anna and Nate will hopefully pass their own test of bringing a large scale organic farm to fruition!
Tags: agriculture, business, capacity building, food security, intergenerational, midwest, youth