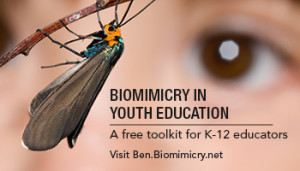 SLN's Learning from Nature: A Course in Biomimicry has been featured in a fantastic new resource for K-12 educators developed and compiled by the Biomimicry Institute.
The free digital flipbook, called Biomimicry in Youth Education, is filled with more than 80 nature-inspired lesson plans, activities, and videos geared to K-12 educators.
Biomimicry is an approach to sustainable innovation that looks to living things (biology) for inspiration. It has inspired products such as concrete that sequesters carbon by mimicking coral and glass that reduces bird collisions by borrowing a strategy from spider webs.
Through biomimicry, learning shifts from quick, teacher-provided answers to more in-depth student driven research, giving students the opportunity to shape their own education. Using biomimicry in the classroom has helped improve student performance in STEM subjects, encourages student appreciation for biodiversity, and cultivates a willingness in students to sustain the environment.
The resources in the flipbook are conveniently indexed by content area and then by grade level, allowing teachers to easily adapt lessons and activities for older or younger students. For educators new to the subject of biomimicry, the flipbook also offers a thorough introductory section containing an orientation to biomimicry's core concepts and suggested strategies for communicating those ideas to students. Be sure to check out this free resource!
Tags: biomimicry, education, youth