"My name is Jenna Rice and I live in a small town in Vermont. I am a homeschool student in my junior year focusing on learning about farming and sustainable agriculture. I am doing things like growing a garden, training a team of oxen, and working on a small farm.
I made the video below for a contest called Restore My Climate.
The theme of the contest was to make a video with a hopeful message about climate change. The thing that I found most exciting about making this video was how many people saw it and were inspired by it. I know that people from as far away as Germany, Pakistan and Indonesia have seen it.  I also really enjoyed bringing my passions for music, photography, and writing together. I never planned on doing a project like this, but I am certainly glad that I did."
On the Restore My Climate webpage, the competition is introduced in this way: "Climate change is the issue of our time, but America's public dialogue on the issue is characterized by pessimism and misunderstanding. This creates a confusing picture of what's happening and what we can do now about climate change.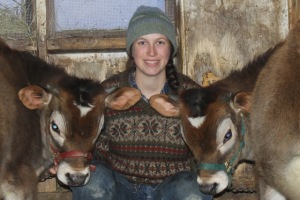 That's why we are inviting young people in grades 5-12 to create compelling videos about real solutions to climate change. We believe that youth have a unique ability to educate their peers and community while inspiring real change."
Jenna's video went on to win third place in this national competition! She produced the video using her own photographs, script and music. For more on Jenna and her self-directed learning and action, visit her blog, Bright and Bold.
Tags: agriculture, award, climate change, creativity, dana meadows, environment, new england, youth