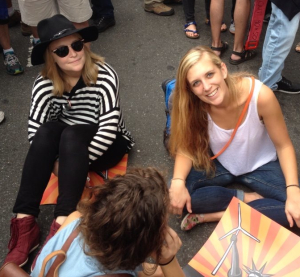 By Johanna Bozuwa, Earth Day Network and former SLN Intern
"Take action now!"
"Our future, our choice."
Signs and energy surrounded me as I readied myself on 77th Street and Central Park West for the People's Climate March. Laughs echoed from kids dancing to drums while volunteers held out posters for us to hold. We were marching in anticipation of the UN Climate Summit happening in New York City that coming week and the impending Treaty to hopefully be signed in Paris, France in 15 months.
I stood in the non-profit section of the march to represent the organization I work for, Earth Day Network. But I was also there for my home state, Vermont, that was recently crushed by Irene; I was there for my father-country, The Netherlands, that will soon be underwater if measures aren't taken fast; I was there for kids I have never met that are already affected by desertification in Mongolia; I was there for Sustainability Leaders Network, the organization that has given me leadership tools for solutions. I was there to represent my future.
And so were 400,000 others.
In Vermont, I was fortunate enough to grow up in a community that believes in living sustainable lifestyles. As I have ventured out into the world, though, I have been exposed to other groups, companies, and politicians that do not have the same perspective. Just the other week, for instance, I attended a Congressional Hearing on the new Clean Power Plan, where a representative from Texas said he didn't deny climate change but just thought there were "bigger issues to deal with right now," like the economy. As if it was a different issue. Sometimes environmentalists, even ones as young as me, can become exasperated by the lack of knowledge and action surrounding the most important issue to ever face mankind.
The People's Climate March invigorated me, though. All around I head conversations and different perspectives on how to mitigate climate change—everything from generating power through fusion to eating a vegan diet. There were so many options and so many people willing to take action.
Young, old, hippie, prep, scientist, poet, black, white. Environmentalism transcended categorization that day. Often, the environmental movement is criticized for being an educated, white person effort. But the People's Climate March worked to prove that perspective wrong. There were representatives from indigenous communities, labor unions and universities.  Since climate change will hit marginalized communities the hardest, it is time for us all to raise our voices in unison.
That is not to say that there isn't still work to be done, especially in environmental education. The lack of diverse representatives in environmental issues is often due to a failing school system that doesn't have the resources to effectively teach environmental education. It can also intentionally be shielded from students. For instance, in Wyoming (a fossil fuel rich state), they do not want to implement the new NGSS science standards that involve learning about climate change because it could "hurt our economy." In order to effectively instigate change, we need a population with the knowledge and tools to make a difference.
A good friend attend the event with me who knew she cared about the environment, but didn't know much about the different controversies and struggles involved. Every sign she walked past, she asked me what it meant, "How can wind power give us more national security? What are the effects of fracking?" I was excited to answer her slew of questions. By inviting her to the march that day, I knew I had made a positive difference, even if the march may have had no visible effect on our leaders in the UN building.
I'm certain that we did have an impact, though.  As Obama said in his speech at the UN, "We cannot pretend we do not hear them. We have to answer the call."
If anything has resulted from the People's Climate March, and similar marches around the world, it is that environmentalism has a voice—a strong one made up of many voices that continue to diversify. We can collaborate at the grassroots level and make change that will push the top to listen.
Answer our call.
Tags: climate change, community, diversity, environment