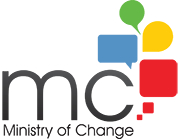 The Ministry of Change (MC) is a social networking platform for empowering and connecting change makers in Pakistan to engage in projects – financially, physically and socially – changing the lives of citizens everywhere. Founder Fellow Huma Beg says the goal is to bring together people with ideas, organizations with projects and donors and volunteers with time.
MC is being piloted in Pakistan in an effort to see how to make the content relevant to each nation and culture around the world and to offer each member the tools to contribute as they are able. Anyone who joins up will find that someone or something can help them launch an idea, find people, funds, a supporting community and mentors to take that next step forward. Such connections move ideas into action.
MC is at a stage where many elements have to be addressed simultaneously, including testing and populating organizations; creating the onward business plan; finding investors; and hiring a core content team. There are many sub themes, but the most important is to get big organizations to use the portal and sign up as regular paying members. MC is actively reaching out to interested investors, demonstrating how the project can become profitable. The plan is to launch MC platforms in the UK, the USA and other countries so that members can benefit from connectivity for the common good.
Learn more about the Ministry of Change: http://ministryofchange.org/
Tags: community, development, innovation, intergenerational, pakistan, youth