Services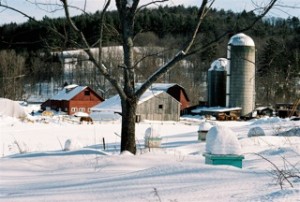 Join us in shifting the tide to creating a life-sustaining world for all.  We believe everyone has the potential to be a leader for sustainability, and everyone is needed. We want to work with you so your contributions are at your highest capacity, in your chosen field. We offer workshops, trainings, coaching, and learning journeys as described below.
Contact us here for more information on any of the following services.
Art of Sustainability Workshops
Creative problem solving is essential for addressing the increasing challenges we face in bringing about a sustainable future for people and planet. Art stimulates the right side of the brain – essential for finding insightful solutions. Those who use a creative process are more expansive in their problem solving, more easily see new possibilities, and are more effective in their chosen work.
Workshops can be tailored from an hour to several days; an afternoon is an optimal start.  Sessions address specific issues in an organization as well as enhance personal growth, working relationships, sensing systems, and team building. We offer workshops on art in nature, action performance, deeper dive, and big art. Learn more.
Coaching
Our one-on-one or small group coaching helps individuals find opportunities in current challenges, identify learning edges, and articulate a vision for their work, desired outcomes, and how they want to show up in the world. Our approach is firmly grounded in deep listening and inquiry. The disciplines of systems thinking, reflection, vision and creative expression frame the coaching methodology we have designed. Sessions are thought provoking and inspiring, with participants coming away with greater clarity, purpose and results. We focus our coaching on sustainability, on working and being at your highest ability, on clarifying personal and professional vision, and on sustainable health.
Leadership Capacity Building
We use a systems approach to enhance well-placed sustainability champions' professional and personal capacity to increase their impact as leaders.  We work with young, mid-career, and senior leaders, and with those who have yet to take on the sustainability cause, but are searching for how to do so.  Workshops can be anywhere from ½ day to a week, or a series of two-to-four day workshops over the course of several months with coaching in between.  The more time committed, the more in-depth we can go. Key practices include the interplay of visioning, systems thinking, reflective conversation, and personal foundation as illustrated below: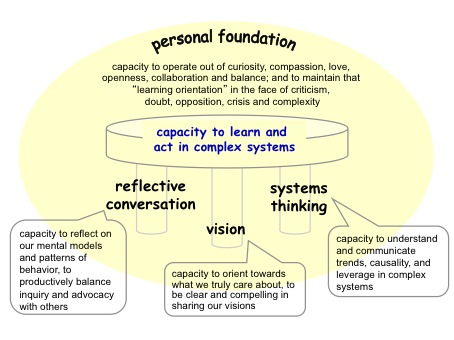 Trainings are tailored for your organization, company, or school. People of all ages, backgrounds, and sectors are welcome. Workshops integrate identifying aspirations, designing the implementation process, and acting for sustainability. Building capacity to serve as a learning leader in collaboration with others is empathized throughout.
Speakers Bureau
Our network of international sustainability professionals who are versed in a systems approach is vast and talented. We can help you find a speaker, consultant, or advisor in a diversity of sustainability issue areas from business, government, philanthropy and the non-profit sector. Find a Fellow here.
Sustainability Learning Journeys
Our learning journeys are designed to help participants see the world through other peoples' eyes and to experience unique ecosystems and cultural groups from within. We provide opportunities to gain a deeper understanding of systems thinking, sustainability projects, and communities, plus an improved ability to learn and be of service in a different culture. We offer custom designed learning journeys to a diversity of places, including Brazil, Ladakh, and Central Asia. We guide participants through a reflective and creative process that enriches cultural exchange and learning, and enhances participants' capacities to empathize and think in systems.
Systems Thinking
An introduction to systems thinking can help leaders convene key stakeholders and identify challenges and leverage for change. We approach systems thinking from both a technical perspective – including identifying indicators, mapping behavior over time, and creating stock-and-flow and causal loop diagrams – and a principals-based perspective, offering practical guidance for navigating complex systems. Our workshops, which can be tailored to individuals, teams, or businesses, emphasize a process-oriented approach that encourages learning through sustainability challenges in diverse teams. We also offer sessions that look to nature as a systems teacher. View this summary and video recording of an example webinar session.
Visioning a Sustainable World
Either in person, via Skype, or as part of a webinar, we offer guided visioning sessions for individuals and groups. These can be tailored to your current team or personal needs, such as desired outcome of a project, event, or next steps in your work or how you show up in the world. We offer visioning for professional growth, greater impact, successful work, finding work-life balance, your ideal health, or to help find clarity on a health decision. View this summary and video recording of an example webinar session.
Contact us here for more information on any of the above services.