Young Leaders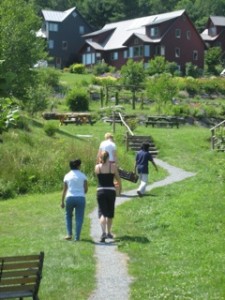 At SLN we are committed to youth engagement, capacity building for leadership and collaboration across generations as essential elements of achieving the transition to sustainability. Young people offer enthusiasm, new questions and ideas, and technological savvy. They are often very well-informed, natural systems thinkers with the leadership skills necessary to analyze key challenges, identify strategic leverage points, and inspire and organize people to act. They offer a diverse range of perspectives, enhancing our understanding of the systems we seek to change. We see intergenerational partnership as an opportunity for mutual respect and learning, innovation, and action on joint projects.
We have designed and taught leadership, systems thinking, and biomimicry courses to high school students in Vermont, and plan to make these available more widely.  We also offer learning journeys to different parts of the world or the United States on a custom designed basis. We work with young professionals going into sustainable agriculture through our Farmers Apprenticeship in collaboration with Cedar Mountain Farm and Cobb Hill Cohousing in Vermont.
Read the most recent project news and other articles on youth engagement, sustainability leadership and intergenerational partnership on our Youth Blog.