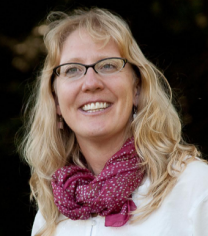 Photo courtesy of Clemens Kalischer, © 2009


Anna Jones-Crabtree
US Forest Service, RegionalOperations Coordinator, Rocky Mountain and Northern Regions
Helena, Montana
As the Forest Service's first Sustainable Operations Coordinator, Anna provides both regional and national leadership for the Rocky Mountain and Northern Regions. She works to pragmatically reduce the agency's environmental footprint and clearly connect this footprint with the mission of a land management agency. Through establishing informal networks of champions throughout the agency and in partnership with other agencies, she works towards the implementation of alternative fuels programs, waste prevention/recycling efforts, environmentally preferable purchasing teams, energy and water conservation and renewable energy projects in a way that is embedded long term in the culture of the Forest Service.
Anna has a PhD in Civil Engineering with a minor in Sustainable Systems. Anna and her husband Doug also own and manage Vilicus Farms, a 1,280 acre organic grain, oilseed, and legume farm in north central Montana where they are championing both organic farms and other beginning farmers.
Selected Publications
Anna, along with Fellow Trista Patterson and several colleagues at the USDA Forest Service, wrote a paper on Leadership for Sustainability: 10 Guiding Principles. It is being used widely with upper level federal leaders in the USA.
Updated March 2009.
Expertise: Agriculture and Food, Climate Change, Energy, Environment, Forestry, Renewable Technologies, Rural
Sector: Business, Government, Research
Geography: North America, United States, West, USA