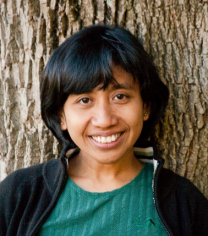 Photo courtesy of Clemens Kalischer, © 2009


Catharina Any Sulistyowati
Kuncup Padang Ilalang (KAIL), Coordinator for Youth Program and Sustainable Community Initiative
Bandung, Indonesia
Any's passion is to motivate people to act effectively in response to social and environmental problems. In 2002 she founded KAIL (Kuncup Padang Ilalang), an NGO in Indonesia which does capacity building for youth to increase their awareness of environmental and social problems. She uses system thinking elements as part of her training and facilitation modules, which range, for example, from facilitating women's group meetings in rural areas to team building for international organizations.
Since 2009, her work has focused on three main areas: (1) facilitating youth in developing their vision for a sustainable world; (2) facilitating communities and organizations towards their sustainable goals; and (3) writing case studies of sustainability initiatives.
Currently Any is working closely with Fellow Maria Latumahina to establish a sustainability training center and community in the forests above Bandung, Indonesia. The center will be an example of how people can live a high quality of life while at the same time conserving the forest. She wants the community to be replicated by common people, not only by rich people who have the money to buy land.
In addition to being an SLN Fellow, Any is a LEAD Indonesia Fellow, holds a Bachelor's degree in Aeronautical Engineering from Bandung Institute of Technology and a Master of Arts in Development Studies from the Institute of Social Studies, The Hague, The Netherlands.
Selected Publications
Any published an article Connecting Conservation and Electrification in Indonesia in the Solutions Journal, Vol 3, Issue 5, September 2012. This success very much contributes to a vision she articulated as a Fellow to write and publish more in English.
Any wrote the chapter Case Studies for Social
Work Education from Indonesia – Examples of Farmers Field School in the 
English language book Social Work Education in Countries of the East: Issues and Challenges, edited by Selwyn Stanley and published by NOVA Publishers in 
2010.
Updated September 2012.
Expertise: Agriculture and Food, Children and Youth, Environment, Families, Forestry, Indigenous Peoples, Oceans, Rural, Urban, Women
Sector: Education, Government, Nonprofit, Philanthropy, Research
Geography: Asia, Europe, Indonesia, Netherlands