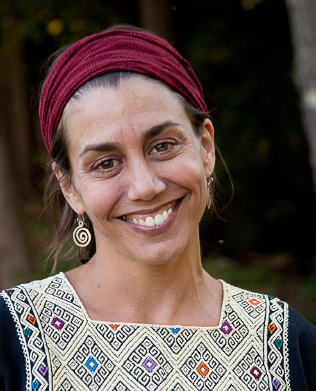 Courtesy of Clemens Kalischer, © 2009


Michaelyn Bachhuber Baur
Solidaridad, Managing Director, Central America and the Caribbean
Burlington, Vermont
Over the last 29 years, Michaelyn has worked at the intersection of sustainable development, agriculture & trade, delivering cutting edge solutions for transformative change. Along her professional path, she has served as a Peace Corps volunteer, an organic farmer in Washington state, as Guatemala Country Manager for a pioneering global organic & fairtrade spice & coffee company, and as Head of Producer Services in Latin America for Fairtrade International. More recently, Michaelyn has led the strategic development and growth of Solidaridad Network's Central America, Mexico & Caribbean Regional Expertise Center in her role as Managing Director.
Michaelyn's work engages her along the entire supply chain, from smallholder producers to large agroindustrial actors, traders, multinational corporations, and consumers, and her expertise spans many sectors, including coffee, cacao, sugar, palm oil, livestock, vanilla, gold, spices, and non-timber forest products, among others.
Michaelyn excels at the development of dynamic, multi-stakeholder platforms for dialog, consensus-building, the articulation of shared vision, & the co-design of solutions. She focuses attention on perception, spirit, and values to facilitate complex systems change for the most pressing issues of our time—food security, land use, climate change, resource scarcity, conflict, poverty, governance & social exclusion. Michaelyn's expertise also extends to Integrated Landscape Management, Impact Investment, Certification, Digital Technology, Child Labor, Harvest and Working Capital Finance, Policy, and Climate Smart Agriculture. She is adept at building high-performing, committed teams and alliances to scale and accelerate enduring change.
Michaelyn's professional journey reflects her personal commitment to sustainable agriculture, biodiversity conservation, ethical trade, honoring indigenous knowledge, creating sustainable livelihood opportunities, inclusion, and working as an agent for social change.
Updated March 2020.
Expertise: Agriculture and Food, Children and Youth, Climate Change, Energy, Environment, Families, Forestry, Indigenous Peoples, Poverty Eradication, Renewable Technologies, Rural, Social Justice, Water, Women
Sector: Business, Education, Health, Indigenous, Nonprofit
Geography: East, USA, Guatemala, Latin America and the Caribbean, North America, United States