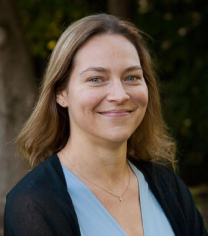 Photo courtesy of Clemens Kalischer, © 2009


Trista Patterson
Sitka, Alaska
In her role as Ecological Economist with the US Forest Service, Trista has been a key player in mainstreaming the concept of ecosystem services in sustainability policy-making.  She is a research and application specialist in sustainable production and consumption of forest resources, specifically non-market resource use, ecosystem services, wilderness and subsistence issues.
Tools that Trista acquired as a Fellow have proven to be particularly valuable when working in large, dynamic, and challenging systems. She and Fellow Anna Jones-Crabtree, for example, used systems analysis to diagnose and communicate needs and accomplishments of the USFS Sustainable Operations- an effort to "green government from the ground up" through 75 Green Teams of FS employees across the country. Trista also frequently draws on the role of vision in creative and transformative public speaking and science delivery projects. One example is the use of photojournalism and new media in ongoing forestry projects in Vietnam and the Tongass National Forest.
Selected Publications
Drawing on the writings of Donella Meadows and the Fellows Network, Trista has advocated for policy making that brings about transformational systems change. For example, she coauthored Leadership for Sustainability: 10 Guiding Principles in 2009 with Anna Jones-Crabtree, and several colleagues at the USDA Forest Service. It is being used widely with upper level federal leaders in the USA.
At the international level, she wrote Policies for Transformational Change: Meadows' Leverage Points' in 2011. This paper helped to embed a systems perspective in the structure of UNEP's GEO5 Report, a comprehensive and integrated assessment of the global environment.  Trista was a lead author for Chapter 16: Scenarios and Sustainability Transformation and Chapter 17: Global Responses, both focused on systems, vision, action, and learning for a sustainable future.
Selected Videos
Trista presents Valuing Ecosystems Services – A Systems Perspective at the World Forum on Enterprise and Environment: Valuing Ecosystem Services at Oxford University, United Kingdom in June 2011

She identifies key inconsistencies in our sustainability efforts and points to 10 potential leverage points for systems change.
Here Trista is interviewed at the same Forum.

Trista presents on What Would Nature Do? at a TEDx Talk in Homer, Alaska, 2010

She argues that principles found in nature, and human nature, can help us sustain global economies and ecosystems.
Updated February 2020.