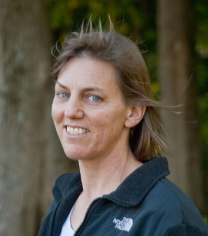 Photo courtesy of Clemens Kalischer, © 2009


Lynn Stoddard
Hartford, Connecticut
Lynn has developed and implemented numerous environmental sustainability programs in her work at the Connecticut Department of Energy and Environmental Protection. Her work has focused on climate change and energy, land use planning, recycling, waste management, and pollution prevention. Most recently, Lynn heads a number of the state's climate change initiatives, including coordinating inter-agency implementation of the Connecticut Climate Change Action Plan and leading a vibrant network of people and organizations engaged in climate change education and awareness. Connecticut was one of the first states in the USA to develop a climate change action plan, set mandatory targets for greenhouse gas reductions, and participate in a carbon cap and trade program.
Lynn applies the tools and skills she learned as a Fellow in her work and personal life. She has created causal loop maps to analyze and improve climate change public policy; gained insight and clarity from work on visioning; and drawn great inspiration from the writings of Donella Meadows. Lynn has had the fortune of being able to bring a few of her Fellow colleagues to Connecticut to collaborate on climate change projects. She is edified by the enduring relationships, intellectual challenge, and supportive network of Fellow friends.
Lynn strives to live her values and raises healthy food, including vegetables, chicken, lamb and pork, with her family on their small farm.
Updated March 2009.
Expertise: Agriculture and Food, Children and Youth, Climate Change, Energy, Environment, Families, Renewable Technologies, Rural, Urban
Sector: Education, Government
Geography: East, USA, North America, United States